This thread will show numerous examples of Stage 1B taken from various different Global Trend Alert (GTA) reports that I've been able to get hold of over the last few years.
The definition of Stage 1B from the GTA reports is:
"Stage 1B - Late in base-building phase. Watch for breakout."
On each example I've included the Technical Attributes score (SATA) as this is something I'm interested in personally as an additional tool to help identify the correct Stages. Below is the description of the nine attributes that the score is created from. Each item is given a score of +1 or zero if the statement is true or false for the stock.
StageAnalysis Technical Attributes - SATA
10 Week Simple MA Rising

30 Week Weighted MA Rising

30 Week Simple MA Rising

52 Week Mansfield Relative Performance above Zero Line

Relative Performance 30 Week Weighted Moving Average Rising

Force Index Cumulative Volume above 9 Week MA (on a buy signal)

Force Index Cumulative Volume 9 Week MA Rising

Weekly MACD above Zero

Price Greater than the Kijun Line (part of the "Ichimoku Kinko Hyo" method, which focuses on dynamic support and resistance zones.)

Below is a bar chart of the percentages at each score. From this small sample 8 out of 9 is the average score for Stage 1B with 32.14%, 5,6 & 7 were where the majority of the rest of scores were with 17.86%, 25% and 21.43%. So 96.43% of the scores were in the 5 to 8 range, with a weighting towards the 8 side of that range.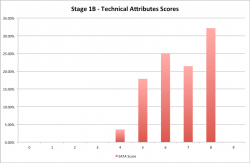 isatrader
Fate does not always let you fix the tuition fee. She delivers the educational wallop and presents her own bill – Reminiscences of a Stock Operator.