RE: Stop Loss Positioning Guide
Yeah, I didn't really mean the ATR as you do, just the percentage as he talks about in the book. Either way, it is good to see his methods as you say.


Quote:The first thing that struck me when going though all the examples was the amount of pullback entries, as it's not an area I had focused much on, as they weren't talked about much in book. There's a lot of picks from this GTA report that say something like "additional buying should be done on a pullback to..." which is probably due to the Stage the market was in i.e. late in Stage 2 in this case. But it is interesting as I'd been solely focused on breakouts and had not been considering pullbacks, except to the B entry point following the initial Stage 2A breakout. So buying pullbacks to support in strong Stage 2 uptrend is something I'll need to explore further on the site as it looks to be more prevalent when the market has been in Stage 2 for a while.
As for these pullback entry points, I think he has a couple of reasons for recommending them over the initial breakout. First is that he might be worried about potential 'dangerous' picks and backlash from his investors. I bet some unhappy big clients would do terrible things for his reputation overall. Therefore, I think he recommends the "safest" entry points possible.
A quote from pg 93-95 in the quiz section of chapter 3. Answer # 6 "The pullback toward the initial breakout point is the safest possible entry point."
The second reason that crossed my mind is that as he is writing up this report to send to his clients, these breakouts are already happening. Therefore, a few days after, when the clients are finally reading the recommendations, the stock may have already passed the breakout point and he sees it as tough to enter late into the stock when chances are it will pull back.
Otherwise, he would have to give recommendations that have not actually broken out yet, which would further risk his credibility if they never actually reached that point.
EX: I recommend buying Boston Scientific when it breaks resistance at 8 dollars.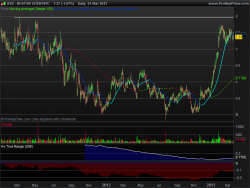 If it never gets to 8, I don't really care. However, if I had people paying me as much as his clients do, I would want to see actual picks pan out (and ones that I can get into now), instead of waiting with a good till cancel order that would tie up capital for who knows how long.
I know the pullback entry point is the safest but there is no guarantee that it will pull back at all. Therefore, I prefer the initial breakout point myself.
In practice however, it is much easier to find stocks that 'just broke out' rather than 'might break out soon', so I often find myself chasing or waiting for that pullback. Mainly because I find it difficult to have a lot of GTC orders on my books.
Just some thoughts-