Stop Loss Positioning Guide
This thread will cover where to place your initial stop loss and how to trail it as the price of the stock moves higher in Stage 2. For the initial examples I've used a Global Trend Alert Newsletter that I received from Stan Weinstein as a free sample last March. So the examples are the actual positioning as suggested by Stan himself in the March 2012 GTA, and hence we can study these old recommendations to learn the correct positioning for ourselves. So remember these are over a year old and were made when Weinstein viewed the longer and intermediate term outlooks as still bullish at the time, but the short term as only moderately positive, but "beyond extended" with more near term warnings than they could keep track of and with signs of 'churning' on the tape, as stocks had broken out and gone nowhere in a hurry. So he was emphasising the "Forest to the Trees" approach - which can be found on page 75 of the book and suggests stock picking the best few chart patterns from the strongest sectors only when the overall trend is positive as it was back then. So hopefully that gives you some context to these charts as the majority likely failed to get very far in the short term, as it was around five weeks before the intermediate term top in the S&P 500 and hence there was likely a lot of failed breakouts in these, at least in the short term. Which I think highlights the importance of the overall trend and the type of buying you do at particular points in it. But that is a subject to discuss in another thread as this thread is to learn correct stop loss positioning and so doesn't matter whether these were successful or not, just that the stop loss would have protected the position from further downside if it failed in it's breakout.

I plan to mark all of the charts up on the daily and weekly charts that I use from stockcharts.com that show the key moving averages, relative performance versus the S&P 500 and the volume. But to begin with below are the Investor and Trader ideal charts recreated and updated from the charts in the book on pages 185 and 195 which around where you will find the stop loss section in the book.

Trailing Stop Loss Guide for Investors (Average 12 months)

I will write out the full description for these diagrams when I have more time. Refer to the Chapter 6 in the book for a full description of how to trail your stop loss. Below is the recreated diagrams...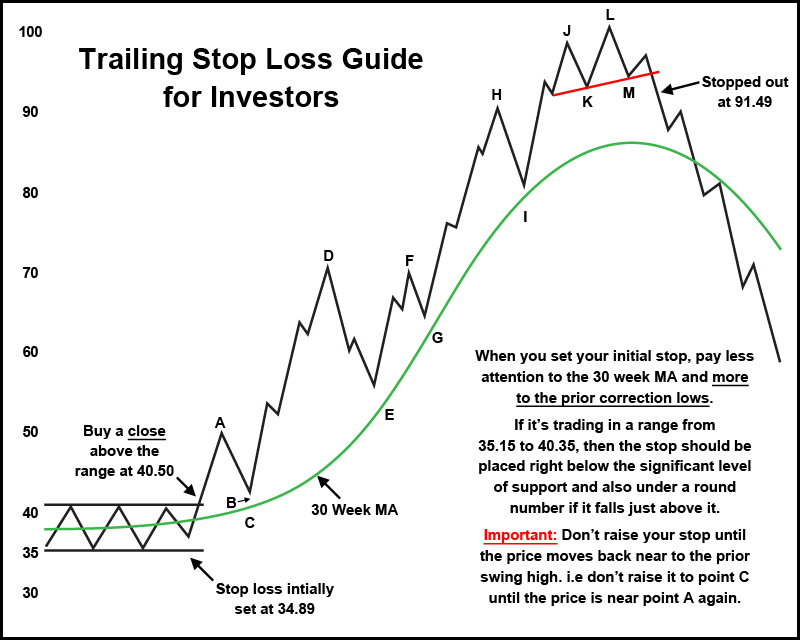 Trailing Stop Loss Guide for Traders (Average 2 to 4 months)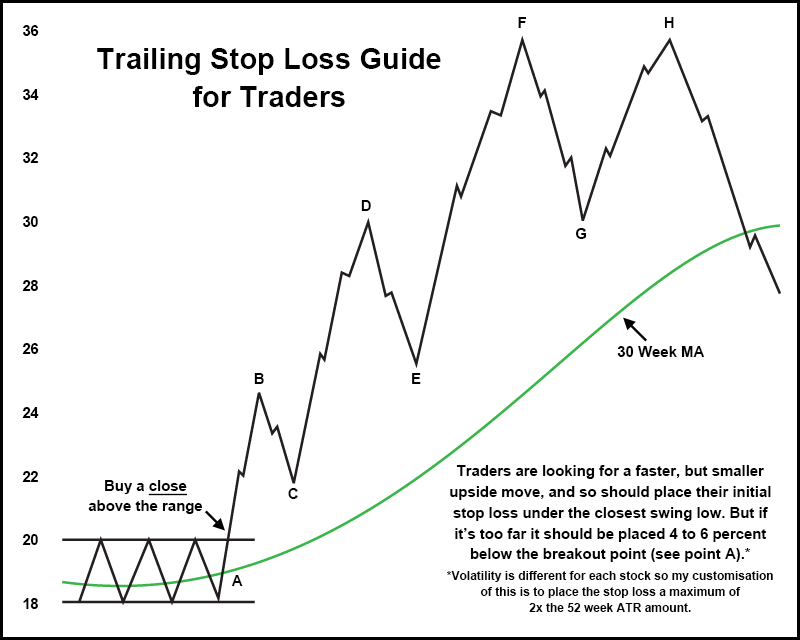 isatrader
Fate does not always let you fix the tuition fee. She delivers the educational wallop and presents her own bill - Reminiscences of a Stock Operator.