NYSE and Nasdaq Market Breadth Update
Attached is the NYSE Bullish Percent Index and the NYSE long, medium and short term moving average breadth charts.

The NYSE and Nasdaq Composite Bullish Percent Indexes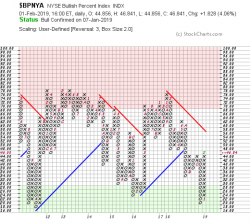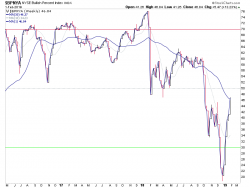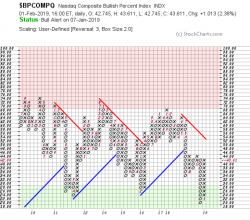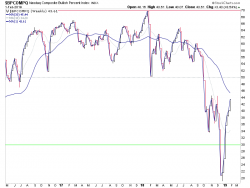 Note: A triple top breakout this week in the NYSE Bullish Percent Index. So P&F Bull confirmed status in NYSE, and P&F Bull Alert status in the Nasdaq


NYSE Percentage of Stocks above their 200 Day, 150 Day and 50 Day Moving Averages P&F charts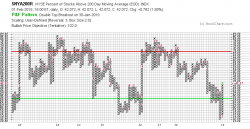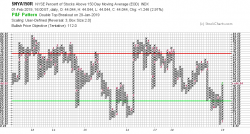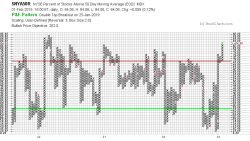 Note: Double top breakouts in the long and medium term measures of the 200 and 150 day chart. So P&F Bull Confirmed status in all three time frames, but short term 50 day is reaching extremes, so due a pullback soon.


Nasdaq Composite Percentage of Stocks above their 200 Day, 150 Day and 50 Day Moving Averages P&F charts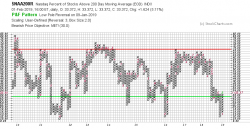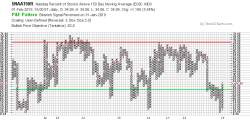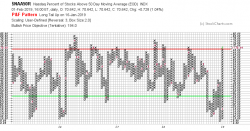 Note: Long term 200 day measure is close to a breakout level, but on Bull Alert status currently. The medium term 150 day measure had a double top breakout this week, so moves to P&F Bull Confirmed status, and the short term 50 day measure moved above the 70% level, so is also reaching its normal highs similar to the NYSE measure.

Overall, positive developments in the moving average breadth and NYSE Bullish Percent Index with bull signals appearing across multi time frames to add to the improving weight of evidence in general. So it may be time for some test trades on the long side again in the coming months if the breadth holds up on the next significant pullback in the market imo.
isatrader
Fate does not always let you fix the tuition fee. She delivers the educational wallop and presents her own bill – Reminiscences of a Stock Operator.